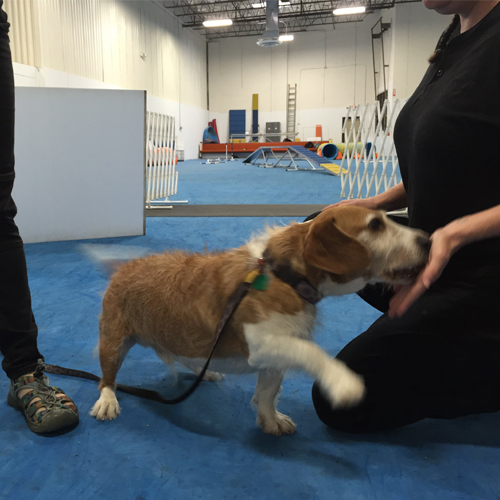 ORIENTATION +
SIX GROUP CLASSES
group classes are Tuesdays at 7:30 pm
Building Trust & Confidence
Social & environmental confidence building class.
(
This is a group class/program. For Private Coaching click here.
)
Dogs who are nervous around people often struggle in daily life. In this program we will work on increasing your shy dog's trust with other people and increasing your dog's trust in you to keep them safe. Our dogs may never be best friends with everyone they meet, but they can learn to relax near people, develop skills for interacting, and be comfortable with people talking and moving. You will also learn how to set achievable goals and create comfortable games and activities for your dog.
You will also learn how to teach your dog to interact with new objects in the environment in a structured setting. The dogs systematically learn to go on, over, under, and through different obstacles. Through these activities, the dogs learn to view novel items as a potential opportunity for these games, rather than something scary. As we progress, we will add tasks and combine skills, which will continue to build teamwork and develop environmental confidence.
The program begins with a group orientation that you will attend without your dog. All adult family members (and responsible teens) are welcome. Orientation is offered from 7:30 pm to 8:30 pm. At the orientation you will learn some training concepts and techniques for building bravery, what to bring to class, and how to best prepare your shy dog for the group class environment.

After the Orientation, you are ready to bring your dog to the next group class. In the group sessions you will learn to help your dog relax and be comfortable, have some fun, and try new things.
All dogs progress at their own pace. Our classroom sessions give you and your dog hours of focused practice with your new skills in a controlled environment. After your six classroom sessions you can elect to take more group classes ($100 for each set of three additional classes) or, your instructor may recommend additional appropriate training options such as scent class, regular manners class, etc.