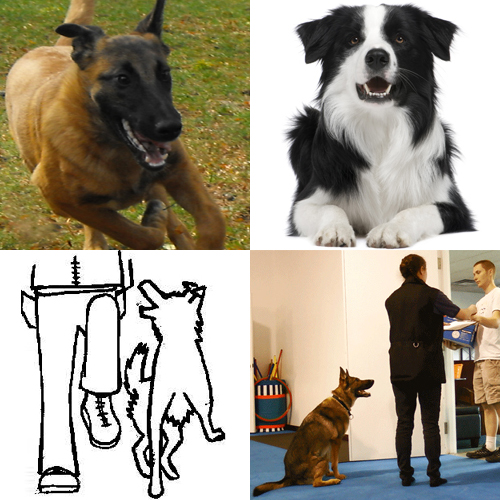 FAMILY DOG BASIC SKILLS SERIES
Building better behaviors one skill at a time
Manners class for friendly family dogs
The series is divided into four 3-week modules, each dedicated to a single core concept (Come when called, stay & self control, leash manners, polite greetings). This is an opportunity to focus on and enjoy progress with a number of fundamental manners challenges.
Settle, Stay & Self Control. Teach your dog the concept of "duration". Practice calm waiting and settling on a mat. Teach your dog to inhibit his or her impulses around progressively more tempting distractions. Highly motivated dogs can learn to have self control!
Come When Called. Use exciting and fun rewards to build a solid, automatic come-when-called behavior. Teach your dog to come quickly, from and through distractions, and to come all the way to you. Understand why your dog sometimes does not come when called, and what you can do about it. Some exercises in this module are performed off-leash.
Polite Greetings. This module focuses on the skills needed for successful greetings, including approaching and leaving people, holding still for petting, being approached by a stranger, greeting sitting and standing people, door manners and more. Mannerly behavior around people will allow your dog participate in more social situations.
Walking With Your Dog. Enjoy a nice long walk through the park, in town, or just around the block. With some smart techniques, you can learn to walk together. Teach your dog to keep a nice loose leash even with distractions, and learn how to get and keep your dog's attention when you most need it.
Tuesday, May 24, 2022
Begins at 7:00 pm
THIS CLASS IS FULL
Thursday, May 26, 2022
Begins at 4:30 pm
REGISTER FOR THIS START TIME
Saturday, May 28, 2022
Begins at 10:00 am
REGISTER FOR THIS START TIME
Saturday, June 4, 2022
Begins at 9:00 am
REGISTER FOR THIS START TIME
Tuesday, June 7, 2022
Begins at 5:00 pm
REGISTER FOR THIS START TIME
Tuesday, June 7, 2022
Begins at 6:00 pm
REGISTER FOR THIS START TIME
Tuesday, June 7, 2022
Begins at 8:00 pm
REGISTER FOR THIS START TIME
Wednesday, June 8, 2022
Begins at 9:30 am
REGISTER FOR THIS START TIME
Wednesday, June 8, 2022
Begins at 8:00 pm
REGISTER FOR THIS START TIME
Saturday, June 11, 2022
Begins at 11:00 am
THIS CLASS IS FULL
Tuesday, June 14, 2022
Begins at 7:00 pm
REGISTER FOR THIS START TIME
Wednesday, June 15, 2022
Begins at 7:00 pm
REGISTER FOR THIS START TIME
Saturday, June 18, 2022
Begins at 10:00 am
THIS CLASS IS FULL